Happy Raksha Bandhan Quotes, Shayari, SMS
Happy Raksha Bandhan– BestHindiShayari – नमस्कार दोस्तों आपका हमारे नए पोस्ट में स्वागत है, आज के हमारे इस पोस्ट में आपको मिलेगे हिंदी Shayari, Status, ( Raksha Bandhan 2020 ) जिन्हें पढ़कर आपको मजा आ जायेगा ! यदि आपको ये BestHindiShayari पसंद आये तो अपने दोस्तों के साथ शेयर जरूर कीजिये !
---
1.) Rakhi Ka Intezaar
Wo Rakhi Thame Kal Bahut Intezaar Hoga
Koi Bhai Jeb Kadki Me Ghar Se Bahar Hoga
Wo Kal Bina Jagde Bahut Batoon ka Din Hoga
Kal Es Kalai Ko Bhi Rakhi Ka Intezaar Hoga.
---
2.) Rakhi is a thread that

binds two soul in a bond

of joy forever..
---
3.) RakshaBandhan:
The only day two rivalries of WWE
possibly end up acting Kabir and Ayesha..
---
4.) Saardhi ka ek tukda bandhan droopadi krishan ki behan kehlaya

Bari saba me aa kar krishan ne dropadi ki laaj bachai

kyun na es Raksha bandhan ek sannkalap lele sare bhaiya

Taki Koi Nari na Fir Dropadi na ban Jae

Ho Duryodan Agar to Es yug me bhi uski Laaj Bachane Krishan Chale ae.

---
5.) He felt happy sending her money each Raksha bandhan to get her gift.
and she felt happy getting gifts for orphanage brothers and sisters.
---
6.) Raksha uski hamesha karunga

koi bhi aanch use aane na dunga

pyari behen tere liye toh jaan bhi

kurbaan kar dunga
---
7.) Happy Raksha Bandhan
Uske bhavishya ki raksha
se hi hoga manavtaki ki Raksha
---
8.) A desire for well being,

that's just not a thread

that's a string of bond

Love And Faith…..

---
9.) Meri behen mere dahman
ki har khusihiyoon ka rukh
Teri  aur mod Duh
Fir humhe baddua ya Dua
Mile wo Humari Nazroon ka
Alam toh mile ki hamari
Ghar ki pagli ka dahman
Toh surakshith mile…….
---
10.) BrotherHood:

The most caring relation with

ultimate tolerance.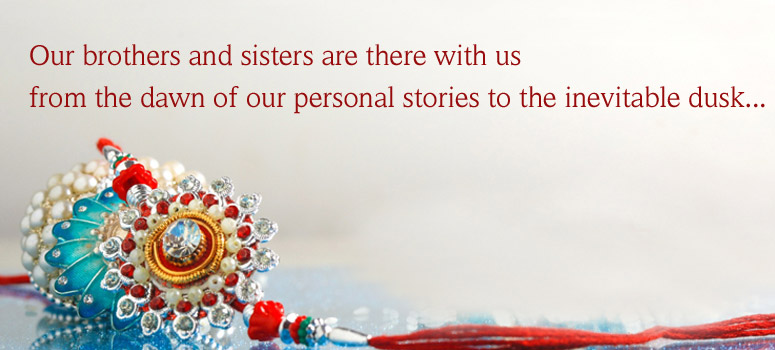 ---
11.) SisterHood:
The most annoying relation with
utmost care…
---
12.) No need of a girlfriend

when you have a few

sisters with good heart

to make your day happy.

---
13.) My Dear brother,
do you remember those days
we used to play video games for the
Whole day and pretend like studying
when parents return home.
Happy Raksha Bandhan
---
14.) The envelope consisted

a thread engraved

"VEERA"

How easily one word

spoke thousands of meanings…

---
15.) Wo Karti hai Dil Se Abhinandan,
Lga Ke Akshat-Tilak Aur Chandaan,
Ye hai Bhai-Behen Ke Pyaar ka Bandhan,
Meri Taraf har din hai Apko
" Raksha Bandhan"
---
16.)Har insaan ke Andar

ek Ravann Hona

Chahea…

Jo apni behan ke

Liye bhagwan se bhu Ladh

……..Jaye……

---
17.)     ||Brother||
A man who is ready to accept you
JUST AS YOU ARE…
Irrespective of your faults…
And unnecessary quarrels…
He WILL BE THERE>> ALL FOR YOU…
---
18.) Hope the occasion of Rakhi,

Brings along Happiness & Luck

For you and your loved ones

&

Gives you infinite reasons to

celebrate each moment in your Life….

---
19.) You were the only person who could beat me,
And make me do all the work.
And still, get the Biggest Place In my Heart|
From Brother to his Sister.
---
20.)  Even if we will not be together on this Raksha Bandhan to share the thread of Rakhi but there's always this invisible thread that will keep us connected irrespective of the geographical boundaries.

---
21.) Nothing can change my love for you brother, be it the money or the time!! The celebration of Rakhi brings in more love and blessing in our relationship. Happy Raksha Bandhan to my dear brother!!
---
22.) We get and then forget many things in life, but it is very sure that your trust in me will never be broken. I am there and I will always be there for you no matter what!!

---
23.) All the festivals may be very colorful but there isn't any festival as powerful as Raksha Bandhan! Happy Raksha Bandhan to the most lovable brother of the Universe!!
---
24.)Dear brother, I wish this bond grows and grows as long as I live!! The relationship that I share with my brother is the most perfect one!! There is no scar same as there are no scars in the appearance of the moons! I wish a very happy and healthy Raksha Bandhan to my dear brother!!
---
25.) The thread of Rakhi is so very powerful that it can bring even two people from different communities together and let them share this pious relationship of brothers and sisters. Happy Raksha Bandhan to the most loving brother of the Universe!!
---
26.) Years will go and our relationship will grow!! Days will pass but there will always be love in our hearts. Dear brother you make my life like a shining start. Always be with me the way you have been till now. A very Happy Raksha Bandhan to my dear brother!!
27.) "It's hard to be responsible, adult and sensible all the time. How good it is to have a sister whose heart is as young as your own."
---
28.) Sisters annoy, interfere, and criticize. Indulge in monumental sulks, in huffs, in snide remarks. Borrow. Break. Monopolize the bathroom. Are always underfoot. But if catastrophe should strike, sisters are there. Defending you against all comers.

---
29.) Bless you, my darling, and remember you are always in the heart – oh tucked so close there is no chance of escape – of your sister.
---
30.) My sister taught me everything I really need to know, and she was only in sixth grade at the time.
---
यदि आपको ये BestHindiShayari पसंद आये तो अपने दोस्तों के साथ शेयर जरूर कीजिये !